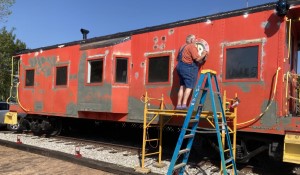 Our latest quote for the painting of the caboose is over $17,000. As a 501(c)(3) charitable organization all donations are tax exempt. RMD distributions from your 401K can qualify and you would avoid any tax on the distribution.
Please send any donations to the Hub City RR Museum, 2123 Old Spartanburg Road, Suite #129, Greer, SC 29650. Please make a note that the donation is for the painting of the caboose.
We appreciate your willingness to help with the caboose painting.