As you may know the May 11 Train Day at the Depot was cancelled due to the rain forecast for that Saturday Morning.  We were disappointed that we had to cancel, but we felt that the safety and comfort of our participants and the visiting public was important. We are in the process or rescheduling the event, however due to many participants who have previous commitments, we will be holding the festival over several Saturdays this summer.
June 29th: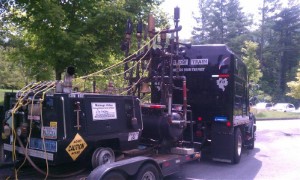 The Watauga Valley Whistle Truck will be at the museum on June 29th, 10 AM to 3 PM.
This truck is a self-contained trailer featuring a collection of unique, historically-significant whistles from the steam locomotive era and the means to blow them.
Steam locomotive whistles, more resonant and musical than modern, electronic horns, were audibly distinct. The "Whistle Truck" offers an opportunity to everyone of all ages to thrill to this bygone, haunting sound and, perhaps, create their own "signature" whistle sound.
The whistles safely use air from a compressor and surge tank. There is no steam involved in the operation. The collection includes vintage steam whistles from railroads such as the N&W, SOUTHERN, CB&Q and WESTERN MARYLAND and an accurate replica of the famous "Casey Jones" whistle. Historically significant in the collection as well are air (diesel) horns from CSX, N&W and VIRGINIAN and various caboose (signal) whistles.
The Whistles and horns may be as loud as a passing train horn. A limited supply of ear plugs will be available for those who need them.
If you own an antique steam whistle, bring it on June 29th and we will see if it can be connected and operated by the Watauga Valley Whistle Truck.
July 20th: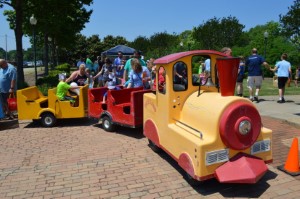 The bounce house, inflatable crawl through train and the trackless train ride we had scheduled for May 11th will be at the Hub City RR Museum on July 20th form 10 am to 3 pm. These amusements are free of charge. In addition, the Aspen Shaved Ice Trailer will also be present, with their frozen confection that was a big hit at last year's Train Day Event. The Daily Basics Restaurant, located in the Baber Rhyne building, will have their kid oriented menu available for this event. We are currently working with other participants to see if they may be able to join us on July 20th. Please check back frequently for updates in the near future.